We wrap up our coverage of the 2012 Venice Biennale of Architecture with selected interviews from our mobile broadcast trolley; and reflect on this year's show and its impacts.
Interviews with Jack Self; Rachel Hurst and Peter Mallat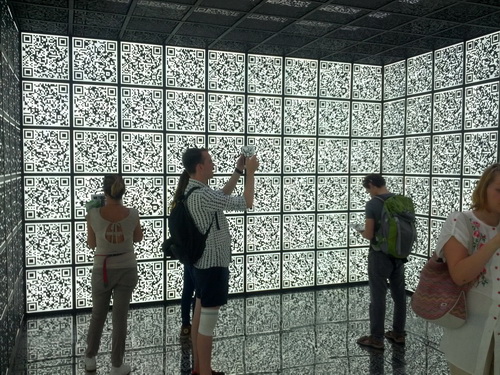 above: Rory Hyde checks out the remarkable Russian Pavilion 'i-city'
The vertical slum project in Caracas - Justin McGuirk and architects Urban-Think Tank with photographer Iwan Bann - the Torre David/Gran Horizonte exhibition and restaurant.
NEWS
· Moshe Safdie has been appointed to design the new $80 million School of Music for Melbourne-based Monash University. The 5000sqm Sir Zelman Cohen School of Music, to be located near the entrance to Monash's Clayton campus, will encompass teaching and practice spaces, a concert hall seating 600 people, a 200-seat jazz club and a recording studio. Safdie's design concept will be revealed on 23 October at an event at Hamer Hall in Melbourne.
· AIA National Architecture Awards shortlist announced. 16 Victorian Projects listed. MONA is looking good for public (although 12 porjects shortlisted), 1 Bligh St, Syd will win commercial and Residential is a lottery (as always) with some very god houses. Announced 1st Nov at the Midlands railway bldg in Perth.
· Premiers Design Awards announced last Wed. Minifie Van Schailk's Edithvale Wetlands won the prize for its impressive sustainability credentials.
· Flinders St Comp –over 100 entries – shortlist announced last week
· Transiting Cities - Low Carbon Futures Design Ideas competition, Latrobe City has just been launched. The competition is open to students with over $20,000 in prize award money. Targeted at Architecture, Landscape Architecture and Urban Design students http://outr.org/
EVENTS
· Carey Lyon will be talking about the development of the design for the new Swanston Academic Building in Swanston Street,: 6.00pm Friday 28 September, RMIT Swanston Academic Building, Building 80, Level 2 (street level), Room 7 (lecture theatre) 445 Swanston Street, Melbourne
· Process is all about glass, one of the oldest materials made by man and ubiquitous in our built environment. This month, we will examine the properties of glass - manufacturing, usage, and applications. Speakers: Blanche Tilden - Contemporary jewellery designer and Gerhard Mayer - Showcase manufacturer. This Mon 1st Oct, 6.30pm at Loop, FREE
· Book Launch Cities of Hope: Remembered/Rehearsed, Australian architecture & stage design by Edmond & Corrigan 1962 – 2012, by Conrad Hamann. Cities of Hope will be launched on Thursday 4 October 2012 at 6pm at Pin-up Gallery, Easy St Collingwood. We will be reviewing this on the show in 2 weeks.